New Super Mario backpack bookbag Lunch box School Bag
● Backpack:Oxford fabric with cotton handle make the bag super durable, comfortable and wear-resisting.Advanced thermal sublimation technology, patterns will never fall off, fade.
● Lunch box: Material: Made with thicker neoprene than other brands. PE foam padding and the interior insulated PEVA lining is Eco-friendly and food safe, wipes clean easily.Keep the temperature for longer.
● Shoulder bag/Pencil case---Made of durable 600 D Polyester.
● Backpack measures 16.5 x 11.5 x 6.2 inches.
● Lunch box measures 9.4 x 7.5 x 3.2 inches.
● Shoulder bag measures 9.4 x 6.3 x 3 inches.
● Pencil case measures 8 x 4 x 2 inches.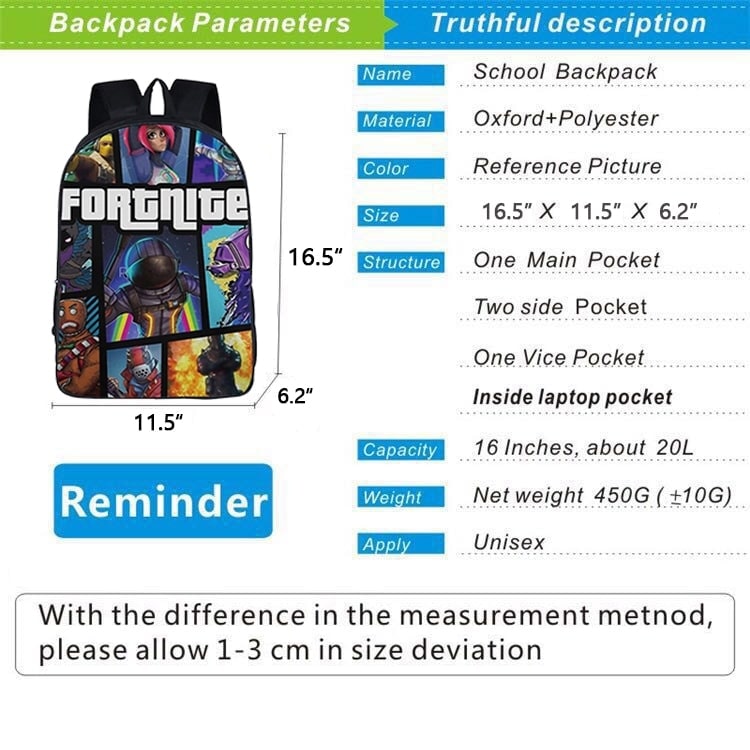 Delivery
Free shipping worldwide. No tax
Receiving time = Shipping time + Processing time
Shipping Time:
USA, UK, Aus, Canada, Germany, France, Ireland

● Express Shipping: 3-6 business days
● Standard Shipping: 5-8 business days
● Free Shipping: 7-15 business days

Other Countries: please add between 1 to 3 business days.
*Choose your shipping method at checkout.
Processing time:
It usually takes 1-3 business days for your order.
You tracking number will be sent in e-mail after we ship the order.

Learn more
At woowcool.com we strive to offer 100% satisfaction to all our valued customers. We gladly accept returns, exchanges, and cancellations.

Our Guarantee:
Return or exchange within 90 days from the delivered date.
Our return policy is backed by a 100% money back guarantee.

If you have any questions about the return please contact our Customer Support. Email:Service@woowcool.com
We will reply to any email sent to us within 24 hours.
Related Products
We found other products you might like!